The Delta area saw a significant groundbreaking ceremony early Monday morning as the the local Court Appointed Special Advocate, or CASA of the 7th Judicial Court broke ground on a new housing project in the 1000 block of Palmer Street.
The location will be called "1st Place on Palmer Street." According to Carlton Mason, CEO of CASA of the 7th District, this local effort for housing is unaffiliated with National CASA organization, who does not want to be associated with housing. CASA of the 7th Judicial District is working internally on a name change and hopes to go public later this year.
The new facility's goal is to house 18 through 24-year-olds coming out of foster care and who may be at a higher risk of homelessness.
The new location will be the first of its kind in Delta and will essentially be another location of CASA's 1st Place location on 2nd Street in Montrose.
Carlton Mason, CEO of CASA of the 7th Judicial District, thanked the Colorado Department of Local Affairs (DOLA) and the Division of Housing for funding opportunities, as well as the City of Delta, the El Pomar Foundation, Western Colorado Community Foundation and the Colorado Housing and Finance Authority.
"As you get to know these young people, they are really great human beings," Mason said. "They're worth our time and they're worth our investment, and really not much different than raising your own teenagers."
The notion of the local 1st Place housing locations came up in 2018, when CASA contracted with Mission Launch Consulting, which is based in Boulder. In this partnership, they identified state and national statistics involving former foster youth and their transition to independence. According to Mason, they "took the additional step of identifying the social/community costs associated with the identified outcomes."
The 1st Place of 2nd Street in Montrose opened in 2019 and consists of eight town homes, a community room and a two-bedroom apartment for an on-site property manager. The Montrose location can house up to 12 young adults and provides a "scope of services in which tenants can voluntarily participate."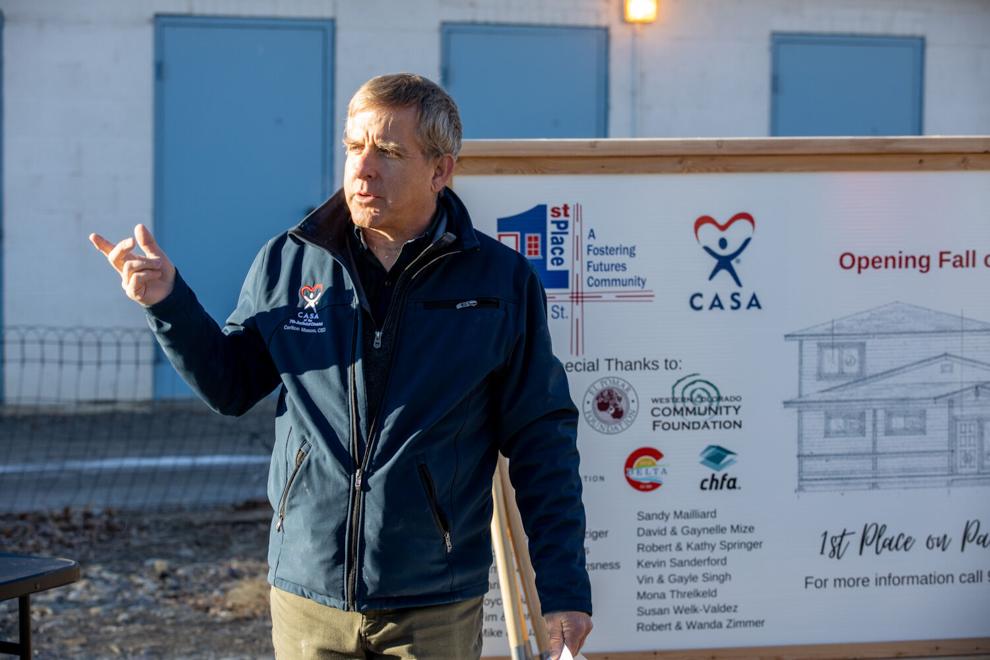 According to statistics presented by Mason, in the year of 2019, CASA provided 107 months of supportive housing, reducing the need for emergency shelter, racking up an estimated saving of $235,400 based on average emergency cost savings per tenant per year.
CASA achieved an 8% reduction in emergency room visits for an annual savings of $6,165, and it reduced the percentage of criminal charges by 60% for an estimated savings of $136,440.
CASA increased the rate of employment by 15.5%, reducing demands on social welfare by an estimated $79,900.
According to Mason, these statistics come from their work with a total of 13 tenants. Three of those tenants have completed high school and one is enrolled and attending college for a community savings of $55,560.
This adds up to a total community savings of $513,465.
The total investment for the development of the Montrose location was $1.2 million.
In 2020, CASA provided 148 months of supportive housing, achieved a 77% reduction in emergency room visits, reduced the number of criminal charges to zero and increased the average employment rate for this demographic by 38%, reducing demands on social welfare by an estimated $56,513.
Mason said that CASA of the 7th Judicial District has seen a 73% return on investment for the Montrose location in two years.
The Delta location is planned to have six supportive housing units of that type, specifically designed for the same demographic. Along with the six units, CASA has 1,200 square feet of shared space to serve the needs of Delta youth who walk in needing help. "From counseling to employment, with a host of services in between, we are here to help."
With the needed money for the housing having been raised, and with the City of Delta having waived water and sewer tap fees for the special circumstances, CASA of the 7th Judicial District is ready for construction in Delta.
This article was clarified at 11:31 a.m. March 3.