A discussion on town staff wages came up as an agenda item at a special Cedaredge Board of Trustees meeting on Monday, Sept. 27, but it was ultimately tabled to a later date due to too many uncertainties among the trustees.
The talk encompassed a pair of two resolutions — one which would adopt the new wage scale and a second which would retroactively pay staff their new wages for the second half of 2021, beginning July 1. The idea behind the wage scales is to make the Town of Cedaredge's staff pay "more competitive" with surrounding areas.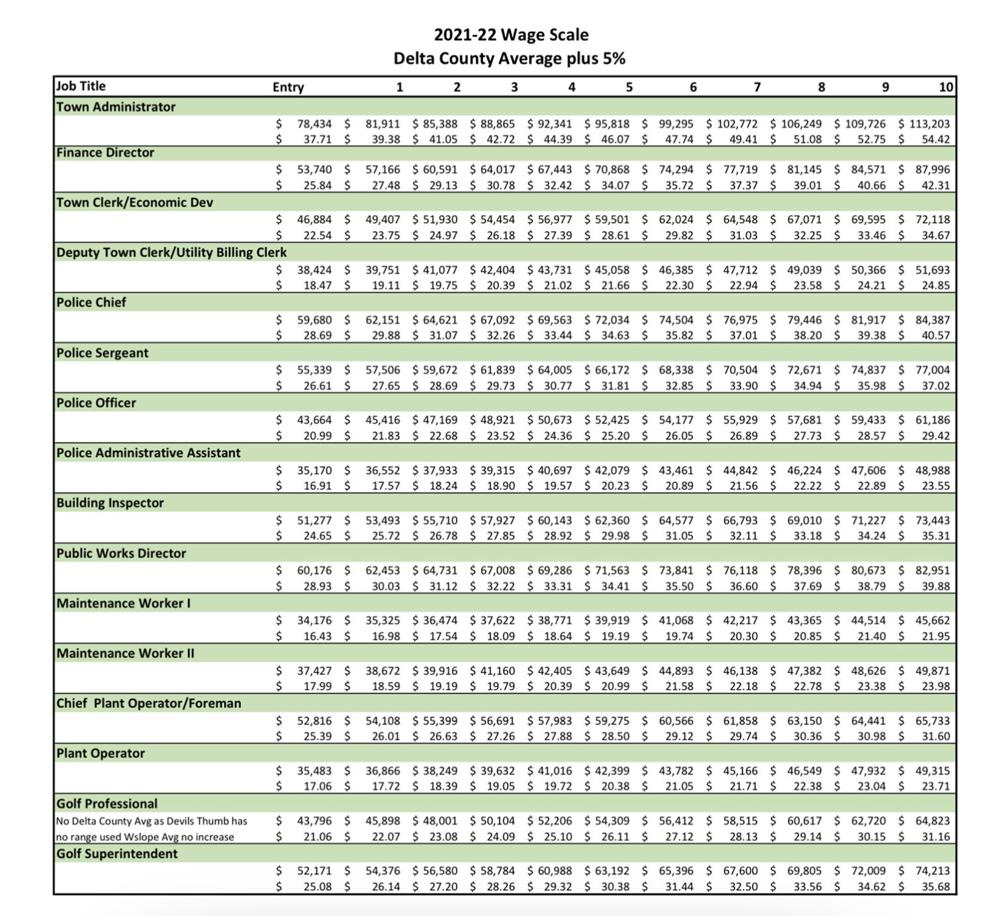 Both resolutions were tabled in favor of further discussion due to uncertainties with the budget and the desire for more discussion regarding the merit-based step-up scale.
The resolution on the wage scale, Resolution 35-2021, provided three wage scale options. Tammy Francis, Cedaredge financial director, was present at the meeting and confirmed to the trustees that a 2022 draft budget scenario already existed for all three options.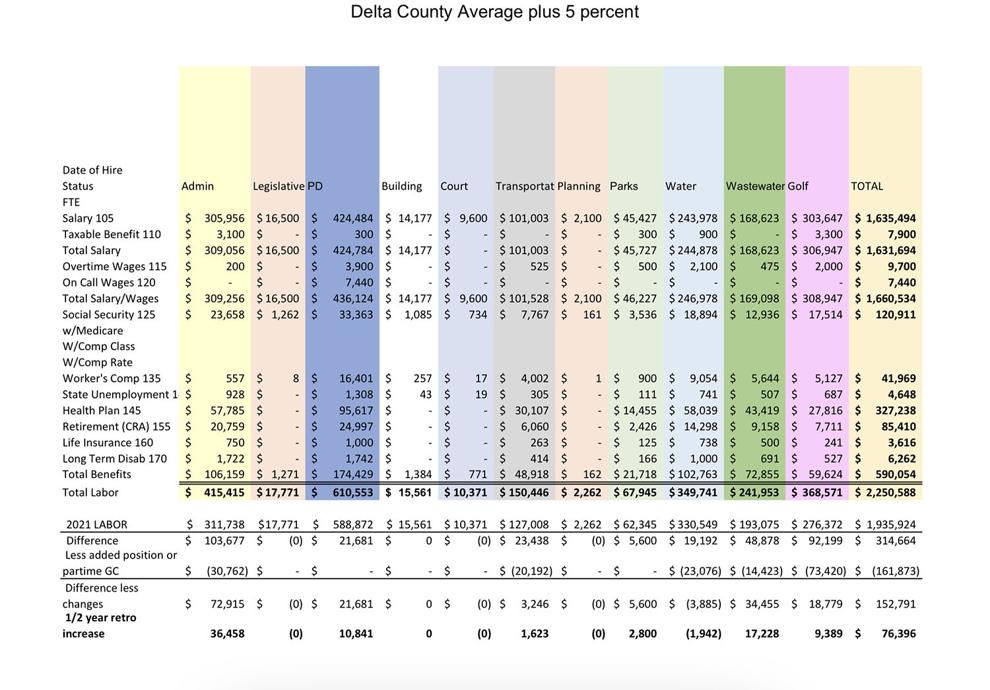 The first scenario was a wage scale based off of the western slope average. The second was Delta County average plus 5% and the third was Delta County average plus 10%.
On all three, concerns arose on whether higher-tier wages would cause financial strife for the town down the road. All three scales deal with both time employed as well as merit. All three show an increase in wages over what is being paid to all town staff at this time.
Trustee Jim Atkinson in particular expressed his own unease of the emphasis on awarding employees just for sticking around long enough to get a raise, but Greg Brinck, who was the town administrator at that time through Oct. 1, assured that the newly proposed step-up scale still took merit into account as well.
"The merit pool increase gives the town the ability to review what's available for employee wages and increases," Brinck said. "The step program is still based on performance, so if they're a low performing employee, they're not still guaranteed a step."
Cedaredge Police Chief Dan Sanders was also present at the special meeting, and upon invitation, spoke to the board about his opinion on the matter from the viewpoint of his own staff.
According to Sanders, Cedaredge's pay for its police officers regularly causes the town to become somewhat of a training ground where most officers don't stay long and a place where the hiring pool is "about as deep as a mud puddle."
"I've got two on the hook right now," Sanders said. "They like it here but they also need to see a future. I don't think you can afford to not do this. I think you have to."
Town Clerk and Economic Development Coordinator Kami Collins also put in her piece at one point, prefacing her comment by saying she usually tried to refrain from trying to steer the board in any given direction but that this was more or less a special circumstance.
"You've had a lot of high level expertise looking at this already," Collins said of the wage scale and its place in the 2022 town budget. "I also want to let you know that you have staff that have to go to the food pantry. You have staff whose children qualify for free and reduced lunches. You have staff whose children are on Medicaid, Medicare. We can keep calling meetings but Dan [Sanders] and Jerry [Young, public works director] and Tammy [Francis] are here to tell you, you guys have got to do something for your staff. There are a lot of people on the hook, and when I say 'on the hook,' there are a lot of people looking."
Mayor Ray Hanson immediately agreed with Collins' points, calling the situation "wrong."
Atkinson, Trustee Charlie Howe and Trustee Richard Udd brought up a desire to see the budget for themselves in all three scenarios for all three wage scales.
The preliminary budgets will be reviewed and the discussion of the wage scale adoptions is expected to resurface at the Oct. 14 town meeting.
All three wage scales show annual wages for a person in each position for the Town of Cedaredge, ranging from entry level to an undefined level 10, all which is meant to be based on both cost of living and merit increases.
Of the three, the Delta County average plus 5% was among the more popular. If the resolution to adopt a new wage scale does pass, the board will immediately have to choose from one of the three scales, all of which are ultimately similar.
Lucas Vader is a staff writer for the Delta County Independent. Follow him on Twitter, @lucasrvader.