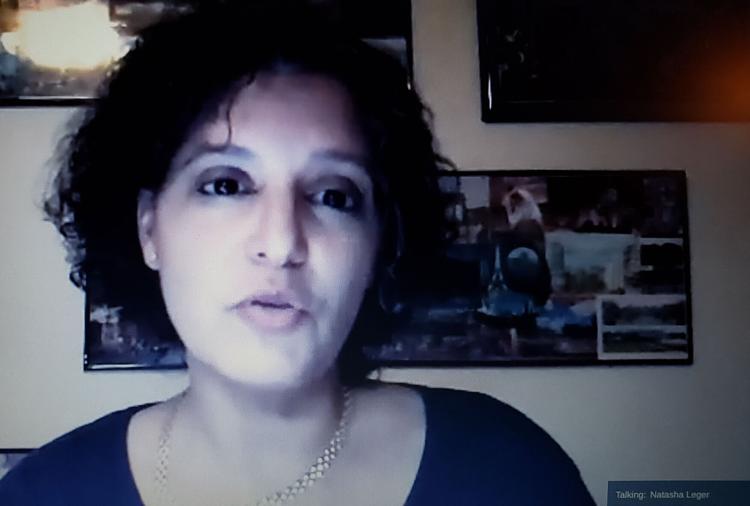 Citizens for a Healthy Community (CHC) held a community update meeting via Zoom on Nov. 17. The non-profit organization dedicated to protecting the North Fork Valley from the negative impacts of extractive industries used internet time to inform 23 participants on a number of important environmental topics.
"The community meeting is for outreach and an update on our work and industry similar to what we would do in person at the library pre-COVID. With this meeting we wanted to show how we are banding together, moving forward during the pandemic and collaborating with others to fulfill our mission," said Natasha Léger, CHC executive director.
Of primary interest were updates on the North Fork Valley Energy Survey and the newly commissioned work on mapping greenhouse gas emissions in Delta County. Both projects were made possible in part by two $2,500 grants from the West Elks Community Fund.
The energy questionnaire conducted between February and April 2020 is the first comprehensive survey conducted in Delta County on the economic, social, and environmental impacts of energy development in the North Fork Valley.
According to the report, conducted by Weise Consulting, most North Fork Valley residents oppose the direction that Delta County Commissioners are taking when it comes to the extraction industry.
Léger said the findings in the 14-page report clearly refute the county's claims that a "silent majority" is supportive of increased fossil-fuel extraction in the North Fork Valley. The survey, directed at North Fork citizens, engaged 3.25% of the area's population with 325 respondents and 4.4% of eligible voters.
As part of her advocacy work, Léger participated in the county's land use regulations public input hearings and often challenged the proposed code citing the lack of clear direction on oil and gas development in the county.
"The county is currently in the process of approving a land use code based on input from less than 1% of the county's residents, and does not take climate and health impacts into consideration in commercial/industrial land uses. Ninety-two percent of participants support the establishment of a Delta County climate action plan," said Léger, adding, "It's time that this county starts listening to frontline community members on what they want for the future of their community."
Highlights in the NFV energy survey showed that 91% of respondents want renewable energy jobs; 93% do not support new oil and gas development in the valley; while 95% do not believe that coal and natural gas extraction are necessary for economic development and jobs. A mere 4% of respondents said they want fossil fuel industry jobs in the valley.
Other key findings show that 99% of respondents said the future of the North Fork Valley is in non-extractive industries while 92% said they do not trust Delta County to protect public health, safety and welfare.
CHC's energy report calls upon county officials to conduct an economic assessment of the impacts of extraction-based versus sustainable, environmentally conscious industries on the region prior to making any future energy-development decisions.
With the NFV Energy Survey showing that an overwhelming percentage of respondents want a countywide climate action plan, CHC's greenhouse gas emissions inventory is the next logical step for the environmental organization. It was pointed out in the energy survey that Delta County does not have a climate action plan or a greenhouse gas emissions inventory.
Jill Hepp, scientist and environmental consultant, shared an overview of the CHC project which will serve as a baseline for the organization's climate action plan.
Hepp said a number of neighboring counties and towns have produced their own greenhouse gas emissions inventory. She said that CHC will use a free public tool developed by the EPA to map county emissions.
"We'll specifically be pulling in oil, gas and coal emissions from Delta County since those are big important considerations," Hepp said, adding, "We have to have very good data going into the module so we get good data out."
She said CHC is collaborating with Delta County, energy suppliers and others to collect the necessary data. While a time-consuming process, Hepp said CHC is dedicating a lot of time with the county "so they will feel comfortable and confident with the data."
Hepp hopes to have an initial draft on greenhouse gas emissions out in the next couple of months.
The report on the NFV Energy Survey entitled "ENERGY DEVELOPMENT IN THE NORTH FORK VALLEY: Community Perspective" is available to the public by contacting Citizens For a Healthy Community.