On Monday, July 12, the Delta Planning Commission had a regular meeting in which one agenda item was to review the new City of Delta Comprehensive Plan's policies and goals.
However, that agenda item did not necessarily go as planned, as misconceptions and confusion arose regarding the plan and the power it would hold over the city for the foreseeable future.
Shay Coburn, Delta community development coordinator, agreed that the discussion did not go in the direction it had meant to go, as they never really got around to talking about policies and goals at all.
Main concerns in regards to the plan seemed to be that its policies would be binding, forcing the City of Delta into a state where it's limited in the future. Planning commissioners were also concerned that the plan seemed to be getting overly ambitious, mentioning that it seems to fit an urban area better than it fits Delta.
"Here's what it feels like to me," Commissioner Mary Cooper said at one point. "We're a community of 9,000 people trying to wade out a plan for a million. Our growth has been very, very low in the last number of years. It's nice to look forward but you're not going to have a million people in another 10 years."
Coburn said that neither of these concerns were really the case, also clarifying that Cooper's statement of a million people was an exaggerated example and that the plan did not state anywhere that the population would ever be a million.
On the whole, Coburn explained to the planning commission and reiterated afterward that the comp plan is a guiding document with not all that many binding laws to it.
"The Comprehensive Plan is even used in different communities in different ways," Coburn said. "In some communities, that is like their North Star, it is like their go-to document, that's how they're making almost all their decisions. Everyone knows what it is, they're checking in on it every six months or something. Some communities do it because it's required by the state and then they throw it on the shelf and never look at it again. It sounds to me like maybe Delta has not used it all that much."
That being said, Coburn said that on the community development side of things, they use it more frequently. Being based off of community input and desires for the future of the city, it's meant to be a standing statement of what the community wants. While it's not based off of hard laws that restrict anything else, it's meant to point the planning commission and the city council in the right direction when making decisions for the city.
The standards and desires of the city change over time as well, which is why comp plans are designed to be revisited and updated every 10-15 years, according to Coburn.
Delta's was redone in 1997 and updated in 2008. Coburn said it is definitely due for an update.
This process has not just started either. It's been going for over a year, starting with the comp plan community input website, "Delta Unleashed!"
"I think the original bid for the project was supposed to take place over a year," Coburn said.
But then COVID happened. The process was delayed.
At the recent Monday meeting, Coburn said she was fairly surprised by some of the confusion over the comprehensive plan, most of which she thought had been cleared up several months ago. Coburn and the community development staff had previously held a community input meeting in which anyone from Delta and the surrounding community were invited to give extensive input in packets and on large maps at different tables. They answered questions, they wrote on the maps and generally gave input.
One unexpected comment of which Coburn said she had been previously unaware was when Commissioner Gerald Roberts said, "I have never been a fan of comp plans, so with that, I don't know what to tell you."
Roberts had been present at the community input meeting and had headed up a table of local citizens in answering questions on the map.
The meeting itself had ended with a homework assignment for the planning commission, and that was to come back next time with clear statements of what appears to be good and what appears to be less desirable within the policies. At the recent meeting, Coburn said she didn't feel there was proper understanding of the plan in general and that she didn't properly understand what the commission wanted from the plan on the whole.
"I feel like I heard both comments, that one, it's too restrictive and two, it's too broad," Coburn said. In actuality, Coburn gave her opinion that this in-progress comp plan is actually less restrictive than the one currently in place. "That's the overall idea —" she said, "— add some flexibility and stuff."
One item in the comp plan's draft talks about the future of public transit in Delta, which was one item Coburn thought may have pushed the planning commission into thinking it was a plan more appropriate for a bigger city.
Again, Coburn clarified that this is just a goal down the road — a direction for Delta to aim. The plan would never force the city into diving immediately into an oversized transit system. Based on the plan, the council could, in a number of years, potentially, look into a small circulation of buses that go to points within Delta.
Ultimately, the comp plan wouldn't require Delta to pursue options before it's ready to support those assets. And it wouldn't require Delta city officials to do the project on their own. It could very likely include some partnerships and long, careful conversations.
Coburn delved into the confusion over the future use map as well, which is a part of the comp plan and the map that was used in the community input event. She explained that future use maps are often confused with zoning maps, but really they're not the same thing.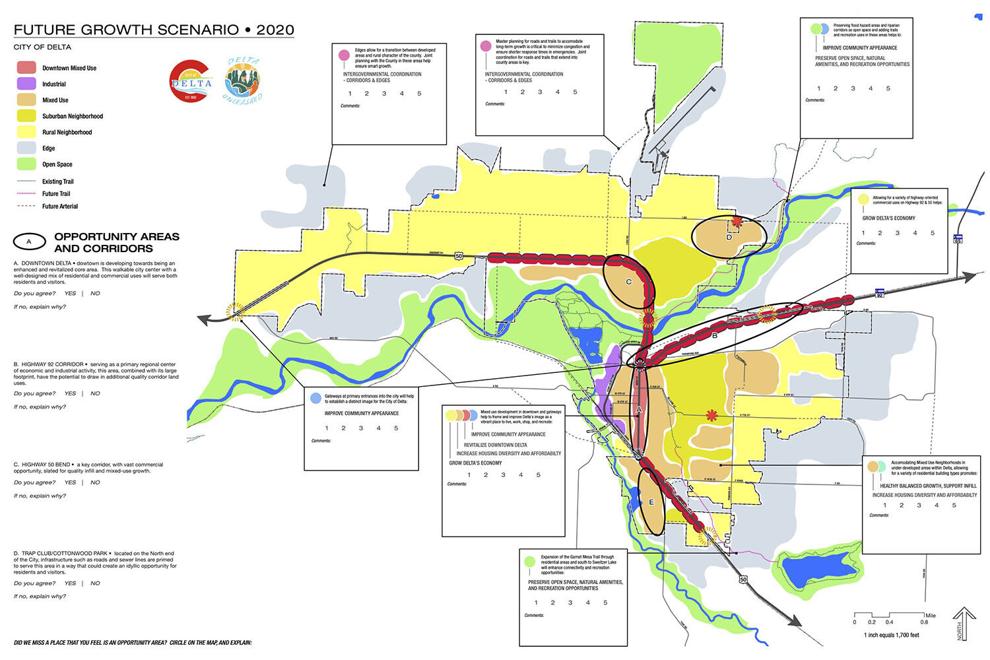 Coburn suspected afterward that some of the commissioners thought the future use maps would restrict the city to a number of neighborhood nodes, but this wasn't the case. Someone could pursue that avenue if they wanted to, but the only thing the comprehensive plan would set in stone was if the city pursued rezoning. Any rezones would need to follow the current comp plan's future use map.
This map involved is actually labeled "future growth scenario," and according to Coburn, that title is really accurate.
Ultimately, the comprehensive plan is not an end-all, just a plan for next steps over the next decade or decade and a half.