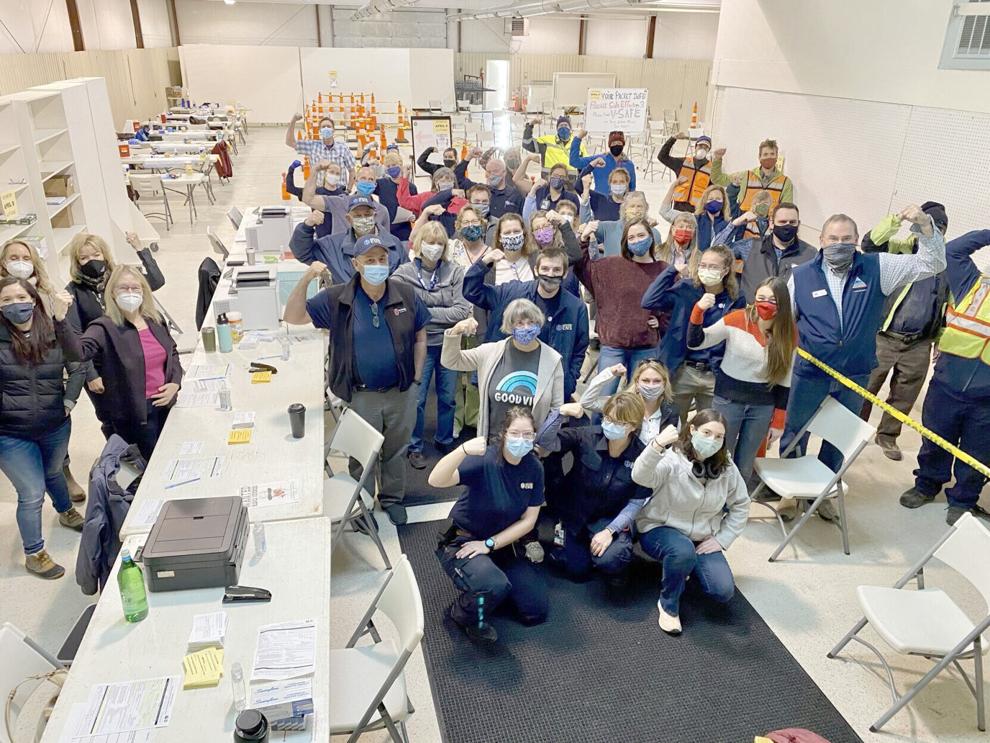 Part 6 of our series on COVID-19; a look in the rearview mirror, finishes with Delta County moving from 'blue' to 'green' on the state's CDPHE COVID-19 3.0 dial. In the weeks to come we will continue to report on how Delta County officials move forward with their local response to the ongoing pandemic.
Delta County began making small gains as it moved from "yellow" concern on the COVID-19 dial and inched ever closer to the "blue" caution status. Even with the positivity rate moving in the right direction, the county still continued its mobile testing and moved into the 1.B.2 vaccination phase.
Commissioner Don Suppes had pointed questions concerning the distribution of the vaccine. Suppes and others began to believe that the vaccine distribution was tainted along political lines.
Dennis Anderson, DCI publisher, covered the important question in his column, "Is the COVID vaccination distribution politically motivated?"
After looking at the data, Anderson concluded that "tracking and reporting vaccine doses shipped and administered by county is not accurate" in part because of a lack of information concerning vaccine shipments to pharmacies such as Walmart or Safeway."
With the county moving into the "blue" status in February, health officials continued to press forward with vaccinations holding the first of two vaccination pods beginning in March. Over 80 volunteers worked tirelessly to set-up, man and take down the makeshift vaccine clinic inside Delta Middle School. Volunteers directed traffic, assisted with parking, gave directions, checked and rechecked registration information while medical personnel administered the Pfizer COVID-19 vaccines and monitored patients.
Delta County Public Information Officer Darnell Place-Wise said 1,050 persons were vaccinated on Saturday while the goal for the Hotchkiss clinic on Friday, March 12, will be around 800. Those who received the vaccine on Saturday in Delta will need to return on Saturday, March 27 for the second dose.
The most up-to-date information on vaccine dashboard dated March 4, showed a total of 7,572 vaccines administered with 5,071 receiving the first dose while 2,494 received the second dose.
As the county reached the one year COVID-19 mark in March, there was an even greater emphasis on getting citizens vaccinated.
"It's good to see our cases declining and it helps us devote more time to vaccination efforts," said Delta County Public Health Director Karen O'Brien.
Delta County Health Department, Delta Health, and North Fork EMS vaccinated over 1900 persons in both Delta and Hotchkiss during the large pods.
On March 24, Delta County officially moved into the "Green — Protect Our Neighbors" status on the latest state 3.0 dial.
"We are overjoyed to be able to move into the least restrictive level on the dial," said Delta County Administrator Robbie LeValley, in a press release. "It's certainly perfect timing as warmer weather and activities start to pick up."
The change to "green" did away with state regulations on personal gathering numbers; restaurant occupancy; non-critical manufacturing; offices; gyms or fitness centers; critical or non-critical retail; personal services; limited health care settings; outdoor seated or unseated events and entrainment or outdoor-guided services.
However, the updated 3.0 dial did not change Colorado's statewide mask mandate until April 2 when the governor released almost half of the state. Delta County expected to be among those released from the mandate, however, due to rising COVID-19 numbers the mask mandate remained in force.
As of April 1, Karen O'Brien, health department director, reported that all providers in the county administered roughly 13,000 doses. O'Brien reported county vaccination percentages for at least one dose: 70 plus age group at 61%; ages 65-69 at 64% and ages 50 to 64 at 43%. As of April 2, anyone 16 or older in the county became eligible for a vaccine.
The county's mobile testing sites continued but are now one day a week on Fridays from 9 a.m. to 4 p.m. at the Tru-Vu Drive In located off of Highway 92 in Delta.
Last week Delta Health announced it was moving vaccination efforts from the hospital to three of its primary care clinic locations starting late April. The vaccine clinics will now be held at Delta Health Internal Medicine, Delta Health Family Medicine and Delta Health West Elk Hotchkiss.
Delta Health will be completing two large Pfizer second-dose vaccine clinics on April 23 and April 30 in the Delta Health Oncology building located at 100 Stafford Lane in Delta.
Those signing up do not have to be Delta Health patients to receive the vaccine. Anyone can make a vaccine appointment at one of the three primary clinic locations. The vaccine clinics will be appointment only; no walk-ins. To make an appointment online, visit deltahealthco.org/covid-19-vaccine/.
This concludes DCI's series on COVID-19; a look in the rearview mirror. The DCI will have continuing coverage of the COVID-19 pandemic as it unfolds in the days, weeks and months to come.