On Friday afternoon, three more private residences received the little oval plaques that are becoming evermore recognizable in the Cedaredge area — the ones that signify dedication by Cedaredge's own Historic Preservation Committee.
Friday's dedicated homes were 370 NW Third St., owned currently by Leesa Fritchman, 235 SW Third St., owned by Beau Norris and 370 SE Deer Trail Ave., owned by Mike Mills.

Mills, as it turns out, is the grandson of Robert P. James, who incidentally is responsible for the construction of all three of Friday's dedicated houses.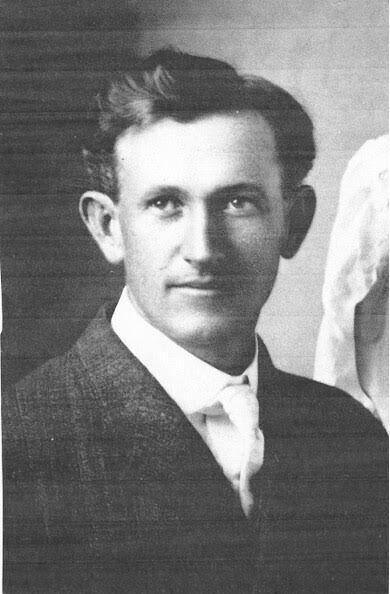 "He worked in the family market gardening business and local metals mines," Mills wrote. "Then he completed a carpentry apprenticeship. The apprenticeship led to his certification as a master carpenter, and he built a few houses in Missouri."
James came to the Surface Creek Valley in 1901 to visit his uncle, William Sanford Pickett, a Civil War veteran and cousin of the well-known General George Pickett of that time. Bill Pickett had settled in the Surface Creek Valley in 1883.
When James first settled in the Surface Creek Valley in the earliest years of the 20th century, he worked for the historic Bar I and Figure 4 ranches, where he performed farm work, mostly.
"Then he began building in the area that would become Cedaredge," Mills wrote. "He was the right person in the right place at the right time. He was a skilled builder in a place that was ready to build. When locals saw his buildings, they sought his skills, and he built homes and businesses as fast as he could without sacrificing quality."
Ultimately, James became a full-time carpenter and ended up being involved in a number of houses that still stand in the Cedaredge area today.
From 1902-1909, a significant project of James' came to be a claim of 160 acres on Cedar Mesa. During that time, he married Ethel Hart (Sept. 25, 1907). They worked on the homestead together.
James received a patent to the land in 1909.
According to Mills' write up on his grandfather, by the end of his life, James also became responsible for power lines, a movie theater in Cedaredge, the Cedaredge Lumber Yard and the building of many homes, business buildings, churches, parsonages, schools, bridges, roads, barns, sheds, silos, corrals, fences, poultry houses, beehives and furniture.
One accomplishment of significance for James are the silos which are available for viewing at the Pioneer Town Museum and are visible from Highway 65 to passersby.
James also worked in insurance and served as the deputy sheriff in the county at the time that Sheriff Willis Davis was killed in the line of duty.
Mills recounted that the Great Depression was unsurprisingly hard on his grandfather in the '30s.
"During the Great Depression demand for James's businesses nearly disappeared," Mills wrote. "He closed the theater in 1930 and sought appointment as Cedaredge's postmaster. He was commissioned postmaster August 9, 1933. He then terminated his long association with the Cedaredge Lumber Yard. James served as postmaster until August 31, 1948."
"Given James's business accomplishments he should have been wealthy," Mills wrote. "He never was. He didn't seek wealth. If debts were unpaid, he let it go. If debtors wanted to pay livestock, poultry, produce, canned goods, labor or other items, he accepted. He gave properties to family and sold to family and friends at below market prices. He loaned money that wasn't repaid, and he gave to those in need."
James died on May 14, 1963 at the age of 87. According to Mills, there were unfinished projects in his workshop.
Friday's three houses of Bob James were recognized in a plaque presentation by the Historical Preservation Board. The presentation took place at Fritchman's house at 370 NW Third St., on the front porch.
As Fritchman showed through photos, she has consistently preserved or even restored the historic nature of the old house, which was built in 1912.
Mills and Norris received their houses' dedication plaques at Fritchman's home as well. Mills' house was built in 1908. Norris' was built in 1912.
The plaques were presented by board members of the Historical Preservation Board Charlie Howe, Matt Sheader and Sharon Pierce, who serves as the chair of the organization.
According to Pierce, the Historical Preservation Board has, for its entire existence since 1996, been dedicated to recognizing and recording the history of the Surface Creek area. She specified that, unlike the state and national preservation boards, the Cedaredge-based organization does hold restrictions against renovations. They're just in it to record the legacy.
Pierce said the Cedaredge Historic Preservation Board is always seeking to gather more interest in the town's history and that future projects will aim to do so.
An early stage project at this time is an idea of enlarging and displaying historic pictures in town, potentially somewhere on Main Street. This project is, however, in early planning and nothing is set in stone yet, Pierce said.
Pierce leads the Historic Preservation Board as a fourth generation family member of the Cedaredge area. Also on the board are Mills, Richard Udd and Jerry McHugh, all of whom grew up in Cedaredge. Furthermore, the board seats Matt Sheader, Charlie Howe and LaDonna Gunn.