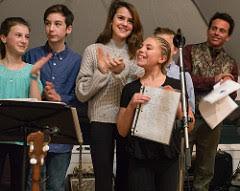 Kids' Pasta Project will celebrate local non-profit organizations on Martin Luther King Jr. Day with a take-out lasagna dinner as part of its Building Bridges Service Awards via Zoom from 6 to 7 p.m.
"This year is really different so, we're kinda feeling our way through. Last year we had more applicants and we had a big dinner and we do decorations and the kids made a banner with quotes from Martin Luther King and there were all kinds of special things to go along with it," said Moni Slater with Kids' Pasta Project.
The take out dinner will be distributed from the Paradise Theatre at 215 Grand Ave. in Paonia on Monday, Jan. 18, from 5-6 p.m. Cost for the meal is $25 for a four-serving pan and $50 for an eight-serving pan with vegetarian and gluten-free options available. Reservations are required to ensure that there's enough food for everyone. To make a reservation go to kidspastaproject.org/reservation/.
A number of local businesses Princess Beef, Lamborn Mesa Farmstead, Thistle Whistle Farm, Ela Family Farms and Elza Coyle Art donated items for the making of the lasagna dinner.
Slater said local nonprofits apply for the $1,000 Building Bridges Services Award each year. This year due to COVID-19 the nonprofits filled out a survey asking questions about their organizations. Kids read the answers, rate the organizations and then give a speech about the organization and their experience with the local nonprofits.
Winners from past years include the following organizations: Arts For All, Abraham House, KVNF and Pickin' in the Park, Paonia Library, Tri-County Resources and Backpack Program.
Kids' Pasta Project is dedicated to helping youth serve their local community by preparing and selling freshly-made healthy meals with the profit going to local causes.