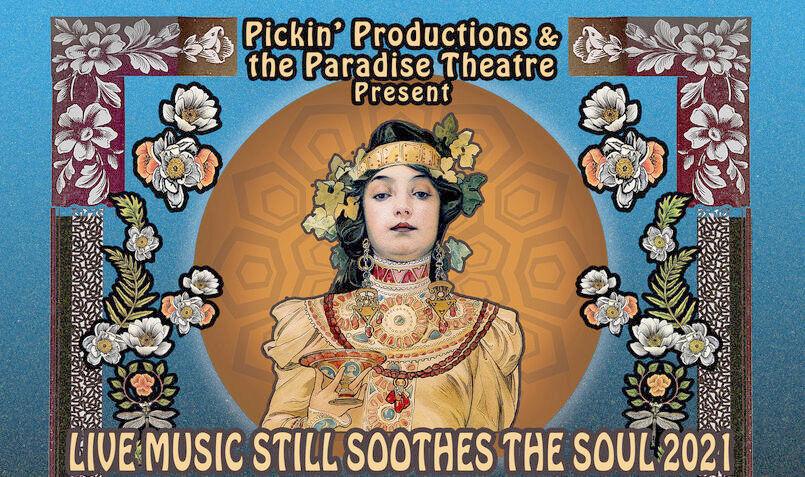 Paradise Theatre and Pickin' Productions are partnering up for an outdoor spring and summer music series. The concert series "Live Music Still Soothes the Soul 2021" will be held in Poulos Park due to continuing COVID-19 concerns.
"We really liked what the concert series accomplished last fall. It was a great success for the community so, we decided to continue doing concerts in Poulos Park," said Sunshine Knight, Paradise Theatre executive director.
While Delta County is now at level "green" on the state COVID dial, Knight said organizers want to keep the capacity at a safe level since the county's status could fluctuate. Concert seating capacity is currently set at 50; however, if restrictions lessen, the number could go up to 75. Changes in seating capacity will be listed on the Paradise Theatre website.
"The series starts on April 23 and goes through July 31 so, in the course of that time progression our plan is to start the series socially distanced and safe with the hopes that as we get into the summer months we'll be able to loosen it up and put more people in the park," said producer Rob Miller, Pickin' Productions.
The first concert on April 23 will be held at Paonia Town Park, a slight change in venue since the town will be placing new sod in Poulos Park at that time. The remaining concerts will be held in Poulos Park next door to the Paradise Theatre.
Weather is another concern when hosting outdoor events in Colorado, Miller said they approach all shows "rain or shine."
"Colorado fans know that sometimes you need to bring an umbrella. I've been running free outdoor concerts in many towns for almost fifteen years and I've had one rainout. So, if it comes down to that situation, we'll cross that bridge when we come to it," Miller said.
If the weather gets too bad, the Paradise Theatre can hold up to 50 individuals safely under COVID restrictions and has a new ventilation system with a CO2 monitor on the way.
While COVID restrictions and the weather are on the minds of event organizers and concert attendees, Miller pointed out the importance of this year's theme: "Live Music Still Soothes the Soul."
"I think the key word in the title is 'still' ... live music still soothes the soul. We started the idea last fall of trying to bring our community live music since we were all missing it so much," Miller said. "So, acknowledging that live music still soothes the soul is to say, 'don't forget how much it does'."
Knight, recalling Paradise Fest, said watching Embodying Rhythm Marimba Ensemble was the first live performance she had witnessed in over six months.
"It moved me to tears," she said. "At that point I knew that I had missed live music but I didn't know how healing live music is and how important it was for me personally and for so many of our community members."
Miller agreed, "I think the energy of experiencing live music with people around you in the same space is unparalleled."
One unique experience at Poulos Park is the sunset migration of local bats. Miller said they ask patrons for a moment of silence during the very special moment between shows.
"It really is a beautiful moment," Knight added. "The bats are fifty to sixty feet in the air, you can see them taking flight."
Beyond bats in flight, Poulos Park has been a bit of an unexpected treasure for Miller.
"Poulos Park in particular is really a special little space that we never really envisioned for music before, but we have some beautiful lighting that we use and we turned this little outdoor space into a real listening room situation."
Miller compared the downtown venue with other large open outdoor spaces, saying, "What we create in Poulos Park for this particular series is a really focused performance space, which is really special for outdoors."
"The feedback we got last year was, the word that sticks out was 'magical'. It truly was a magical experience that only people in big cities would normally get to experience," Knight said, "And there are some absolutely beautiful posters designed by Pop Narcotics that we've put up in neighboring towns."
The concert series will also feature seating with tables, food concessions and adult beverages. In addition, dinner options prior to the concert include nido, The Flying Fork Cafe, Louie's Pizza and Rio Bravo.
Knight said event organizers are working on a smartphone app that will allow patrons to order concessions from their seats. Miller said they hope to include local restaurants in the app as an "ultimate goal."
Miller emphasized that the pandemic has really hit the music industry hard changing the way concerts are booked. With venues closed and festivals postponed, Miller said it's been a really 'tricky' line-up to book this season.
"I was a little nervous about the line-up that we would end up with, but I can tell you that the line-up that we have now is one of the best that I have ever put together which I did not expect. I was pleasantly surprised with what we came up with," Miller said, giving a rundown of featured artists.
"Ron Artis is a soul player and one of the best guitarists I know. He's from Hawaii and he played Pickin' in the Park two years ago, one of the sweetest voices around. For our second show we decided to take one of our best regional musicians Gabrielle Louise, from hometown Paonia, will be performing along with Lizzy Plotkin & Natalie Spears, from Gunnison, with a brand new album out. Not only are those two artists some of the best regional artists, but genre wise they pair really well together, they'll do some performing as a group as well," Miller said.
"Bonnie Paine & Bridget Law are a duo and are the main founding members of the band Elephant Revival, which was a very popular band not long ago. This duo that they are performing as, is brand new. They've only started doing it this spring so, it's a really special thing. So, all of the fans from Elephant Revival will see something they've never seen ... and Tuba Skinny is a seven band that we have, it's all horns from New Orleans with traditional street music. This isn't big funky get up and dance music, this is like you are in New Orleans ... Louis Armstrong, real deal stuff," said Miller.
"Jackie Venson is a very young guitarist player from Austin, Texas who is regularly selling out thousand seat venues ... she was just recently on Austin City Limits the big t.v. show. And finally Steve Poltz which is one of mine and Sunshine's favorite performers on the planet. He's one of the funniest and entertaining men you will ever see on a stage anywhere."
Live Music Soothes the Soul line-up at Poulos Park:
There will be two performances at 6 and 8 p.m. Tickets are $25 in advance and $30 day of the show. Advanced tickets are available online at ParadiseofPaonia.com Poulos Park is located at 217 Grand Ave., Paonia, Colorado.