Toward the end of 2020, the Town of Cedaredge board of trustees took its conversations about pot to a whole new level, as a ballot measure which passed in November legalized retail marijuana within town limits, with conditions (reference the full ballot language later on in the article).
The change went into effect on New Year's Day.
This article is a compilation and summary of high-importance items which have come to light so far in the Town of Cedaredge's process into allowing marijuana. The DCI will continue to report on the topic as matters progress.
DCI Cedaredge Marijuana Articles
A multitude of DCI articles have covered the number of town meetings on the topic of retail marijuana, encompassing the following:
In addition to staff journalist-reported trustee meetings, the DCI also has a record of community and staff input, including but not necessarily limited to the following: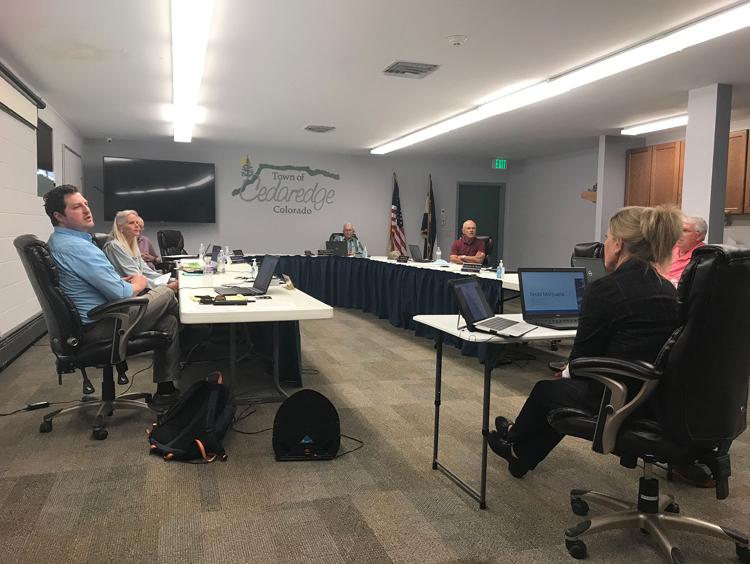 As a case and point for the safety of marijuana in Cedaredge, early discussions among the board of trustees included statistic presentations on crime, children and municipalities similar to Cedaredge. The stats came from sources such as the Colorado Division of Criminal Justice (DCJ) within the Department of Public Safety, Healthy Kids Colorado Survey (HKCS) and National Survey on Drug Use and Health (NSDUH).
The surveys show the following:
Crime in Colorado, 2008-2017 (Marijuana was legalized in 2013)
Through court cases, felony marijuana court case filings, including conspiracy, manufacturing, distribution and possession with intent to sell, declined from 2008-2014 but increased from 2015-2017. The town presentation stated that this "might be in part because legislation changed the legal indoor plant count, providing law enforcement agencies with greater clarity and tools to increase their enforcement of black market activity."
Despite the increase overall, 2017 felony filings were still substantially lower than 2008 filings, with 907 to 2008's 1,431.
In terms of organized crime, stats show a dip around 2012 and an increase through 2017 (2012: 31; 2017: 119).
Filings for juveniles younger than the age of 18 are consistent across the study period.
Colorado State Patrol (CSP) DUI cases were down 15% from 2014 to 2017.
CSP cases of marijuana-only impairment stayed steady throughout the legalization phase.
CSP cases of impairment that only include marijuana rose from 12% in 2012 to 17% in 2016, then dropped to 15% in 2017.
For DUI suspects who self-report their primary substance of abuse, marijuana makes up about 10% of self-reports compared to alcohol's approximate 86%.
The number of fatalities where a driver tested positive for any cannabinoid (Delta 9 or any other metabolite) increased from 55 (11% of all fatalities) in 2013 to 139 (21% of all fatalities) in 2017.
Colorado hospitals' reports of marijuana-related hospitalizations increased steadily from 2000-2015, with no discernible jump at the time of legalization.
Human marijuana exposures reported to the Rocky Mountain Poison and Drug Center increased significantly from pre- legalization to 2014, then flattened out from 2014-2017.
The number of school-reported suspensions, expulsions and law enforcement referrals have remained consistent post-legalization.
Marijuana was the most common single reason for school expulsions (22%) and law enforcement referrals (24%) in the 2016-17 school year, the first full year where marijuana was reported separately as a reason for disciplinary action.
Since 2012, graduation rates have increased and drop-out rates have decreased. From 2010-2017, the graduation rate rose from 72% to 79%.
Youth Usage and Attitude (ages 12-17)
According to numbers collected by the NSDUH, previously mentioned, "The youth marijuana rate reported via NSDUH for the 2015/16 school year (9.1%) was the lowest it's been since 2007/08 (9.1%)."
HKCS states that the proportion of high school students reporting having ever used marijuana or having reported using it in the last 30 days remains unchanged from 2005-2017.
According to HKCS, the proportion of students reportedly trying marijuana before the age of 13 decreased from 9.2% in 2015 to 6.5% in 2017.
Alcohol was the most common substance students reported using at any point in their lives (59%) followed by e-cigarettes (44%) and then marijuana (35%).
Expectations for Business in Cedaredge
According to a June 2020 presentation by Cedaredge Town Administrator Greg Brinck, "It is difficult to find a comparable Town in Colorado to Cedaredge," as Cedaredge isn't on a major highway or on a route to a large tourist area. With the previous uncertainty on whether the Town of Paonia's own similar marijuana initiatives would pass (which they did), Brinck made a vague but self-stated "conservative" estimate that Cedaredge marijuana businesses could serve a population of 30,000-45,000 people.
That population is based on estimates that the businesses would serve Delta County, north Montrose County and possibly south Mesa County.
The Cedaredge Community Survey
An August 2020 survey sent out by the Town of Cedaredge to everyone in the town's email system gathered hyper-local input on how the town felt about marijuana. The survey also asked for a preference for town revenue: marijuana, a general sales tax increase, both or neither. The numbers came back to help the town board of trustees make their decision after the survey closed on Aug. 23.
The numbers for total responses came back as follows, out of a total of 478 responses: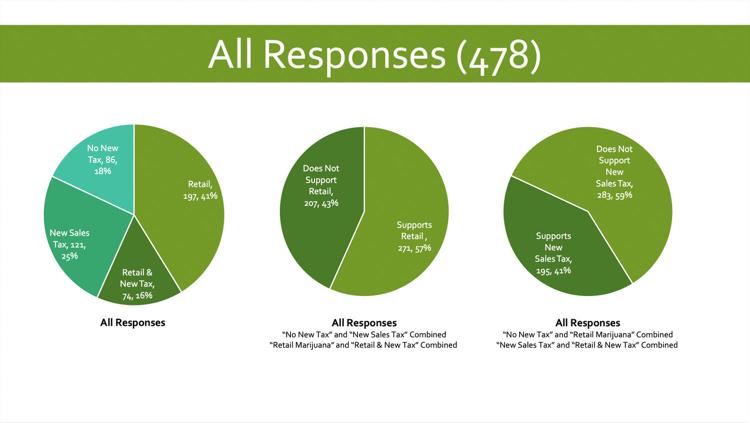 The survey also asked the community how it would like the extra revenue to be used. Survey participants could check more than one box. The results are as follows:
Transportation: 322 (34%)
Parks and Recreation excluding the golf course: 176 (18%)
Parks and Recreation including the golf course: 126 (13%)
The state of Colorado's code says on marijuana, "A county, city and county, or municipality may adopt and enforce a resolution or ordinance licensing, regulating, or prohibiting the cultivation or sale of medical marijuana," and that "any local jurisdiction may enact ordinances or regulations governing the time, place, manner, and number of retail marijuana businesses."
At this time, the town has not approved restricting ordinances for marijuana business in town, which could limit the number of stores, distance from schools and more.
The state defaults to a 1,000 foot buffer zone between schools and liquor stores or marijuana retail businesses. The town is allowed to decide the buffer zone for themselves, and as 2020 wrapped up, they were leaning toward declaring a 500 foot buffer zone.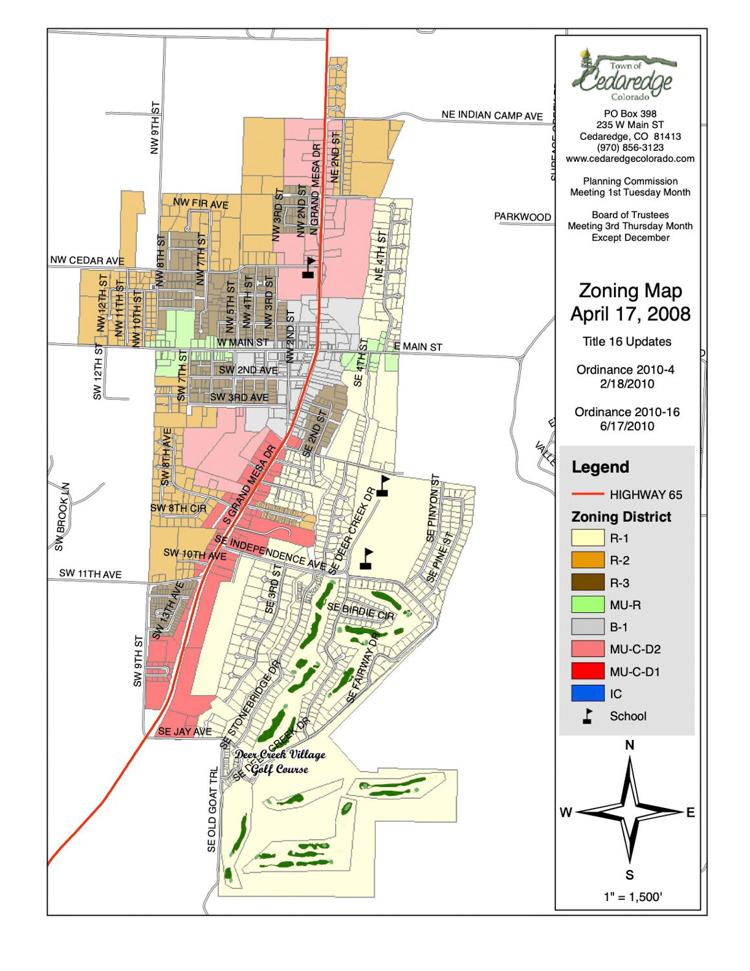 The town, as part of the early process of creating regulations around the local retail marijuana community, must determine zoning restrictions. Currently, discussions have taken the board of trustees and town planning commission to restrict marijuana to either District B-1 or MU-C-D1, which are the areas surrounding Main Street and the area along Highway 65 respectively.
However, they are leaning toward further restricting retailers from being on West Main Street for a number of logistical reasons including parking and compatibility with downtown.
As part of the Fair Campaign Act, the Cedaredge board of trustees had a deadline to submit the two measures' final ballot language by Sept. 8.
The first issue, 2A, asked about whether retail marijuana should be allowed in town in the first place. Its language was as follows:
"Shall the establishment and operation of retail and medical marijuana stores be permitted in the Town of Cedaredge, Colorado subject to State of Colorado retail and medical marijuana laws and ordinances adopted by the Town of Cedaredge no earlier than January 1, 2021?"
The second issue, 2B, proposed an additional 5% sales tax specific to retail marijuana, thereby benefitting the town budget with its extra tax. Its language was as follows:
"SHALL THE TOWN OF CEDAREDGE TAXES BE INCREASED BY ONE HUNDRED THOUSAND DOLLARS ($100,000) IN THE FIRST FULL FISCAL YEAR, BEGINNING JANUARY 1, 2021 AND BY WHATEVER ADDITIONAL AMOUNTS ARE RAISED ANNUALLY THEREAFTER, BY IMPOSING AN ADDITIONAL SALES TAX OF 5% ON THE SALE OF RETAIL MARIJUANA PRODUCTS, WITH THE REVENUES DERIVED FROM SUCH TAX TO BE COLLECTED AND SPENT ON THE CEDAREDGE POLICE DEPARTMENT, TRANSPORTATION, AND PARKS AND RECREATION AS A VOTER APPROVED REVENUE CHANGE NOTWITHSTANDING ANY REVENUE OR EXPENDITURE LIMITATIONS CONTAINED IN ARTICLE X, SECTION 20 OF THE COLORADO CONSTITUTION?"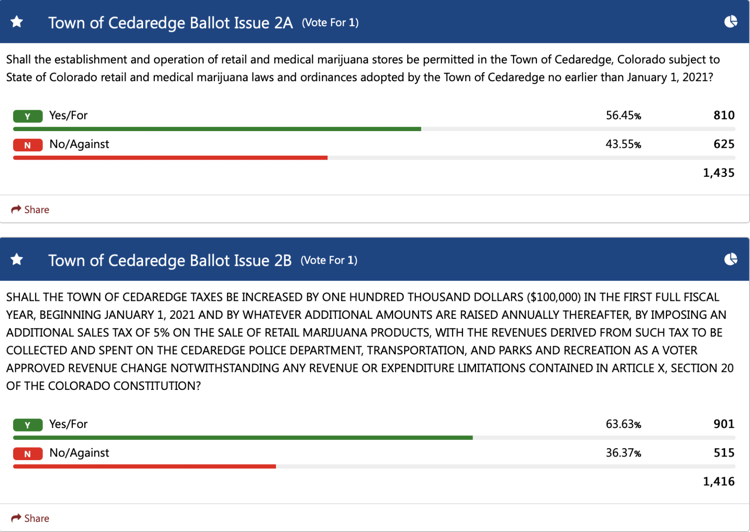 Both measures passed: 2A with 56.45% approval and 2B with 63.63% approval.