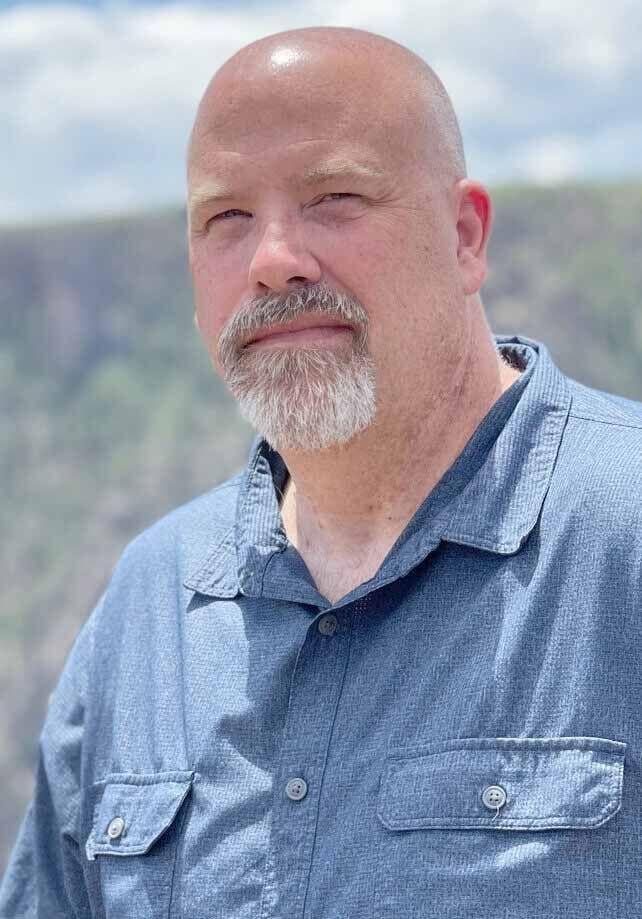 New Hotchkiss Marshal Scott Green is busy meeting his new community and working hard to restore public trust in the town's battered police department.
Green found out about the open position while attending a memorial service for his late father in Crawford. In the ensuing days, he met briefly with Mayor Larry Wilkening to see if he might be a good fit for the job.
Following a successful Zoom interview with the entire Hotchkiss Town Council on June 28, the law enforcement veteran was asked to head up and re-build the struggling police department the following day. His first day on duty was July 2.
"I am proud of my career. It can be a difficult time in law enforcement right now but I am very, very passionate about it and energetic about my career as I go forward," Green said. "I haven't been jaded. I still love to come to work, I still love to serve the citizens and I really hope that I make a difference each and every day that I come to work."
Green brings an impressive list of accomplishments, accolades and experiences garnered over a 24-year career in law enforcement.
He graduated from Denver Business College with an Associate of Applied Science Criminal Justice degree in 1995 and began his career with the Commerce City Police Department in 1997. During his tenure there, he helped implement a K-9 program; served as a detective on the North Metro Drug Force Task; was a member of the city's incident management team and worked on the department's Special Investigations unit as a detective.
Over the course of his career, Green also served with the Mountain View Police Department, the Edgewater Police Department and most recently with the Mead Police Department. While serving in Edgewater, he started a drone program.
During the Hotchkiss interview Green said it was very clear that community policing was among the top priorities for the small town.
"I felt very impressed by his interview. He's interested in working with the community to build a vision for the marshal's department. I am just super impressed with him and I think he's what we need to lead the town into a more community-oriented law enforcement agency," said Mary Hockenbery, mayor pro-tem.
One of the key pieces, Deputy Julia Thompson, will continue in her role with the department. Thompson has been praised by the mayor, town council and several community members for her commitment to the Hotchkiss community.
"It's about taking care of the 'little issues' that affect day-to-day quality of life for the town's citizens," Green said, "And I think visibility is one of the most important things, whether it's me or one of the other officers. I am someone who wants to be out on the streets. I want to be visible and I want to be on a first name basis with the people I serve."
In his first week on the job, the new marshal made it a priority to speak with citizens as they dropped off their water payments at town hall. On the street, folks are already calling out, "Hey, Scott."
"He's so excited to work with Hotchkiss specifically and build a department from scratch in the right way. We lucked out that he wanted to apply here. We're in a really good position to move Hotchkiss forward while still retaining what we love about it," said Hockenbery.
Green readily acknowledged that he faces a big challenge following months of turmoil in the department that led to the departure of Marshal Dan Miller, the termination of Deputy Chad Lloyd and legal issues involving Deputy Kelsey Shumway.
"I want to hire the right persons for our community," said Green, who plans to make the hiring of new staff a joint effort with town leadership and the community.
"One bad officer that doesn't sit well with the community can have a huge effect on the entire town and the police department in and of itself. I understand that there's going to be some building of bridges ... it's going to be my job to instill public trust. So, I need to bring in the right people for the job to move this department in a positive direction."
In the spirit of transparency, Green mentioned an issue he had while working in Commerce City. While serving in the town's police department, Green filed a Colorado Open Records Act (CORA) with the City of Arvada concerning possible disciplinary issues involving two fellow officers who previously worked for Arvada. The CORA request was leaked back to Green's supervisor resulting in his termination.
"Getting fired from Commerce City, that was uncomfortable. But I am proud to talk about it because I did the right thing," said Green. "When that happened it was obvious a kick-in-the teeth but these types of situations shouldn't be secret. You should be able to find information about the officers that are working the street. I believe that in law enforcement you have to be held to a higher standard as a person in order to enforce the rules and regulations."
Green's right to file a CORA request as a private citizen was vindicated in 2017 when Commerce City paid its former police officer $150,000 in a settlement following a federal lawsuit.
"I believe in order to have true police reform in this country you have to have transparency. And that transparency doesn't just start with the officers it goes from the top all the way down. Everyone needs to be accountable for their actions whether they're the chief, the marshal, a deputy or anyone else within the law enforcement community," said the long time law enforcement officer.
"It is of the utmost importance that if an officer sees wrong doing that it is immediately reported, not thought about or anything else. It is mandatory. You can go to jail if you don't do what you're supposed to do," said Green referencing Colorado Senate Bill 20-217.
Another important issue for the new marshal is serving and supporting victims. Green recently met with the area victim's advocate and made it clear that his department will enforce the law especially when it comes to domestic violence.
"That's a mandatory arrest. You have to take action on that, you can't sweep those things under the rug. You have to take care of it. Domestic violence laws are there for very good reasons," Green said.
Among his top priorities, the new leader will revisit the department's mission statement, hire competent staff, update the department's policy and procedures, provide more officer training and continue to build solid community relationships.
As for the mission statement, Green wants the process to be open to the public with input from town leadership and his department. For the law enforcement veteran, a mission statement is more than words. It needs to provide direction and set priorities for the police department that are rooted in the community's values.
"I am more of a transformational type of leader. I am not an authoritative type and I think transformational leadership style is probably the best style to go with especially in law enforcement and in a situation where you're trying to build the department basically from the ground up," said Green.
An official swearing-in ceremony is planned for the August 12 town council meeting. Green said he hopes to have a number of 'meet and greet' events in the near future.