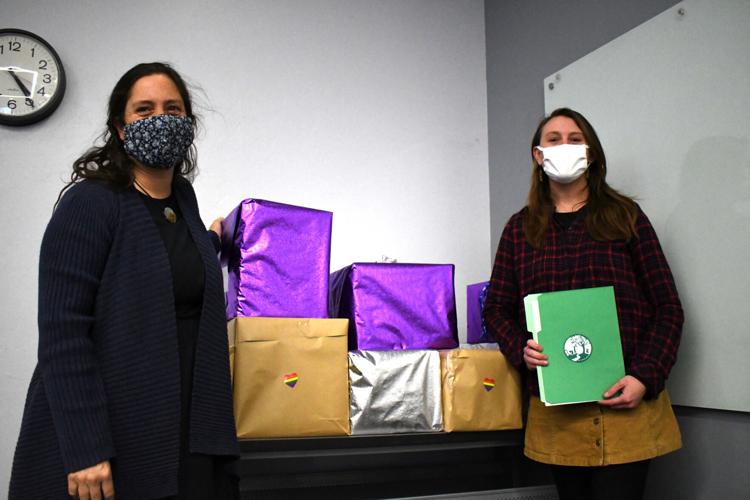 The Learning Council and Decolonizing Delta County School District (DDCSD) made a substantial book donation to Delta County School District at its headquarters on Thursday.
Alicia Michelsen and Amanda Campbell from The Learning Council located in Paonia presented its "Diversity Library" to the school board prior to a scheduled work session.
The book donation project was a collaborative effort with DDCSD founders Marisa Edmondson and Jordan Evans who were unable to attend the presentation. Edmondson and Evans, Paonia High School alumni, have engaged with the school district for several months encouraging a more inclusive culture at the district-run schools in the county.
"The collection includes 154 books that either fit into the CDE learning standards or are intended to be library books. Many of these books were written by BIPOC (Black, Indigenous, People of Color) or LGBTQ authors. Books include topics on Black History, immigration stories, LGBTQ stories and awareness, fiction and fantasy, nonfiction, history, diversity, inclusion, and celebrating each of us as we are," said Campbell in a written statement to the board.
In addition to the books, The Learning Council also provided a curriculum adaptation tool using Colorado Department of Education (CDE) standards in English and social studies. The tools allow teachers and curriculum builders to fit many of the titles into the district's curriculum.
"We also gave the board and administration a book log with all the information on each book, which will be an easy way for them to track which books they want to keep and which books they want to return to TLC," said Campbell.
Following a number of discussions to the school board over the past few months, both TLC and DDSCD began brainstorming on ways to make a positive contribution to the district's underserved diverse student population.
"We were looking for a more tangible way for students to have access to more diverse resources in schools so, we thought one way to that was to get books that are written by authors of color and LGBT authors that speak to subject of diversity, racism and equity," said Campbell.
Thirty books were purchased from Townie Books in Crested Butte while hundreds more were donated by the community.
"We not only wanted to get books that could be integrated into the curriculum but we also thought it was really important to get more 'fun' books for enjoyment," said Edmondson in an earlier interview.
As a person of color, Edmondson said it is very important for students to "see themselves" in literature. She also hopes the library of books will help area students see history from a comprehensive perspective.
Campbell said the school district will screen the books before allowing teachers to include them in classroom curriculum or making the books available for students to check out. Books not accepted by the school district will be returned to TLC.
Delta County School District Superintendent Caryn Gibson said the district has looked forward to receiving and reviewing the equity library donation.
"Once we've received the books we will be able to begin the curriculum review process to determine which titles may be added to our schools' resources. When it is determined that the donated texts are appropriate for school use, we will inform all staff of the available titles, and within which school they are located. The board is ultimately responsible for all curriculum and instructional materials, including library books," said Gibson adding that district policies IJ and KEC explain the procedures for reviewing curriculum materials.
"The board and district leadership recognizes the need and rights of students to free access to many different types of books and materials. We also recognize the right of the professional staff to select books and other materials supportive of the Colorado Academic Standards," the superintendent said, adding that the school district has the responsibility to be thorough in the review of resources regardless of who the donating organization may be.
Gibson said all four traditional high schools in the district have a library and/or book check-out system through their English department where books are accessible for students and staff to check-out.
"The high school academic libraries have evolved in response to changes in the learning and research environment. All students sixth grade through 12th grade have a Chromebook where students may use the technology for research and information while having access to most of the traditional resources and services of a library," Gibson noted.
Last summer Edmondson and Evans led a grass roots demonstrated in front of district headquarter prior to the school board meeting to bring awareness to equity issues in Delta County schools. Following a presentation by a number of community members and DDCSD the school board issued statement in support of racial equality and vowed to continue to work on making improvements throughout the district.