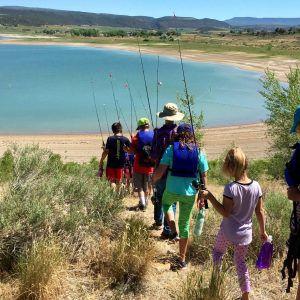 The Nature Connection, supported by Delta County School District and various Colorado-based grants, will once again host a number of summer day camps for area children and teens.
"Our camps are filling up super fast, our North Fork camps are all sold out and our Delta camps are filling up really fast, but we're putting a really big waiting list out there because our hope is that as summer progresses, we'll feel more confident to offer more programs," said Ben Graves, program director.
With the current COVID-19 situation Graves said it's best for families to check the organization's Facebook page or website for updated information and to subscribe to its newsletter.
While the summer camping outlook remains up in the air, the Nature Connection continues to work hard on its popular day camps. Currently, camp sizes are limited to 10 participants because of COVID-19. If a camp is full, Graves recommended getting on a wait-list in case public health guidelines change.
"We are working with the local public health officials and with the state to try and offer something. Right now we've limited our registration to ten kids per week. We're hoping it's going to keep us safe. By June first a lot of the guidelines might be delegated to the counties, but there's still a lot of discussion on that," he said.
With the safer-at-home policies and coronavirus concerns, one alternative to getting outdoors is the Hotchkiss Trail System, seven miles of single hiking and biking trails near the high school and pool.
"It's a recreation asset, something close to home. We're going back to GoCo with our strategic planning for more programming. That's been our big spring task, putting together a plan for GoCo to convince them that they should keep funding us," Graves said, promoting a "backyard to the backcountry" theme.
With the negative psychological effects of the coronavirus pandemic, Grave said the Nature Connection will make mental health a "big piece" in strategic planning going forward.
"There's some great research all about outdoor activities, physical activity and sunshine, how all these things have really important mental health benefits. This past spring we saw how so much learning involved screen time, so we're hoping to offer kids programs that can really ground them and get them back outside," he said.
There are other organizations providing virtual camps this summer due to COVID-19, but Graves said the Nature Connection wants to build leadership skills, and confidence through actual physical outdoor experiences. In order to get kids outdoors safely, it provides a gear library, transportation and education.
To get kids outdoors, Nature Connection partners with Generation Wild, a Great Outdoors Colorado (GOCO) program, that reconnects kids with nature and helps them to experience the incredible benefits that are right outside the front door.
"This is our final year for funding with Generation Wild, and we're crossing our fingers that they will continue to fund us. We really want to make it known that all of all our programs are heavily subsidized by Great Outdoors Colorado and families can see that on our website with the reduced pricing for camps," Graves said. "They cover over half of the camp fees for families in Delta County."
Prices for the Nature Connection day camps are a real bargain at $125 for a week of fun outdoor activities like paddle boarding, skills challenges, rafting and biking. Front Range camps typically charge up to $500 a week for the same type of adventures. Even with the reduced prices, Graves said they do offer scholarships for families in need.
"We're hoping to get some funding from some foundations to support families who have been impacted by the covid either personally or financially through their businesses. We really want families to get on the waitlist and enroll. There's no charge to register for camp, and if there's any financial need just to work with us."