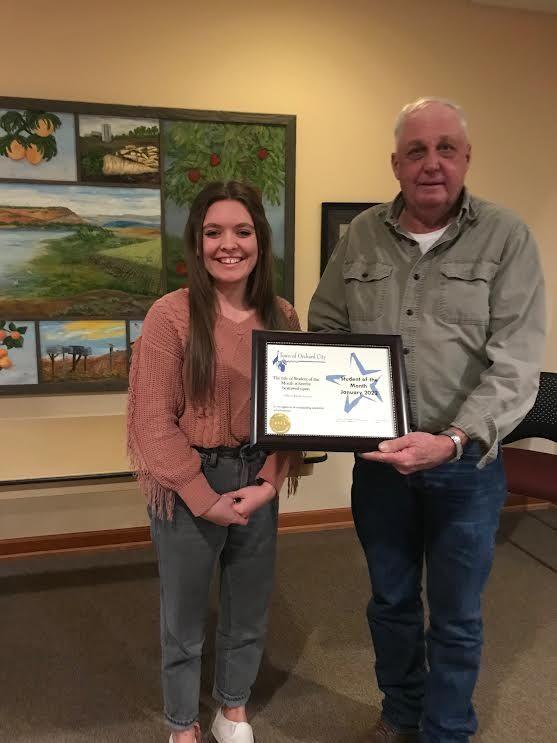 At the Jan. 12 monthly Town of Orchard City Board of Trustees meeting, Olivia Hohenstein received the award for Orchard City Student of the Month.
Hohenstein is a senior at Cedaredge High School and has a 4.0 GPA, a regular of the school honor roll. So far, she has lettered in each class she has taken.
In her freshman and sophomore years, Hohenstein was student of the month through the school and in her sophomore year, she was feature for Spotlight on Success.
Hohenstein pushes herself to excel in the classroom where she takes multiple AP classes. In her sophomore and junior years, she earned AP scores which qualified her to be named an AP Scholar.
In November 2021, she won the VFW essay contest for both Cedaredge High School and Delta County. Her essay is currently being reviewed for the state competition.
Hohenstein has been an active participant in marching band and concert band as well as journalism and tennis. During her senior year, Olivia was one of two drum majors of the marching band and yearbook editor for journalism. She has also joined multiple student groups including Sources of Strength, National Honor Society, Fellowship of Christian Athletes and the Delta County Student Advisory Council.
Hohenstein loves attending youth group at First Baptist Church in Cedaredge and teaching Sunday School at her church in Montrose.
After high school, Hohenstein plans to attend either CMU or Western State College to double major in elementary education and secondary math education.