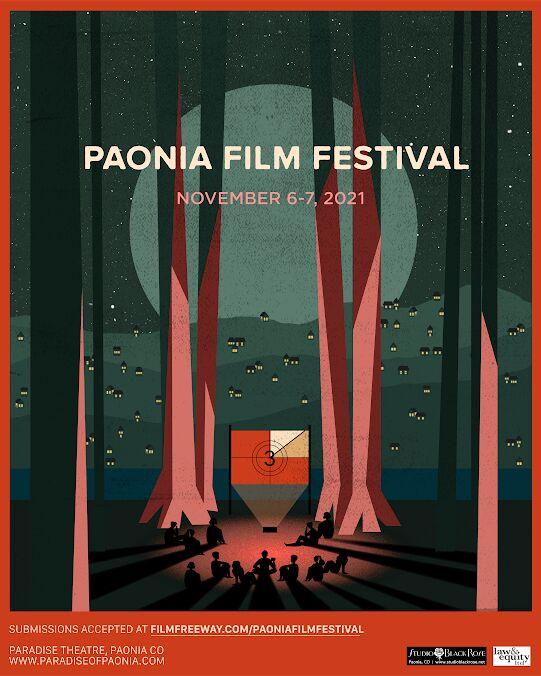 It's time for filmmakers and film enthusiasts to mark their calendars for Paradise Theatre's third biennial film festival coming up Nov. 6-7.
After taking a few years off, the last festival was 2016, event organizers are ready to bring the fun festival back to the North Fork Valley. In the past the entertainment-packed event sold out every year.
"The Paonia Film Festival is a very much loved event," said Sunshine Knight, festival manager, who after meeting filmmaker Brennan McGee last summer decided to resurrect the festival.
"He's been the guiding force behind making everything happen and I am excited to bring it back because it was a Paonia favorite. This year we've expanded it to eleven Western states in order to get a diverse collection of films that might resonate here in the North Fork Valley," Knight said.
Even with the expansion, McGee, festival director, said the two-day event will still be "everything Paonia and the North Fork Valley."
"It will still have that feeling of small town local but we'll get an eclectic array of filmmakers throughout the Western US as well. We went back and forth on how to do that so we went with a local tier within the North Fork Valley and then a Western US tier," McGee said.
The two-tier festival allows local filmmakers to compete against each other and not against the bigger more seasoned filmmakers McGee said.
Western states include Colorado, New Mexico, Wyoming, Montana, Arizona, Utah, Idaho, Nevada, Washington, Oregon, California. Western Slope filmmakers from Telluride, Crested Butte, Aspen, Snowmass, Glenwood Springs, Rifle, Vail, Durango, Grand Junction, Palisade, Delta, Hotchkiss, Paonia and beyond are encouraged to participate.
This year's Paonia Film Festival theme is "Community."
"We definitely wanted this film festival to stand out in a different way," Knight said. "We want to talk about what community means to different people whether that's in a big city, small neighborhood or rural farmers. We really wanted to get a sense of what the filmmakers idea of community are."
Knight hopes the festival will encourage filmmakers to reach out and recreate civil discourse in a nation that has struggled with division. She envisions filmmakers reaching out people groups outside their comfort zone and perhaps learning something new about "community."
To get the festival rolling, filmmakers can attend a number of free virtual workshops led by professionals in the industry beginning Feb. 10 and running thru April 8.
"The idea is to help local filmmakers and filmmakers through the West to have a bit guidance in creating their own films," McGee said, adding that the instructors receive a small honorarium.
Workshops include Story development (Feb.10); Finding a subject for your film (Feb.18); Producing a short documentary or fiction (Feb. 25); Mastering the documentary interview (Mar. 4); Story to screen; the four-minute documentary (Mar. 11); Level Up your cinematography (Mar. 18); Directing a short film (Mar. 25); Rough cut to finish (April 1) and Selecting or composing music for your film (April 8).
Registration links for the workshops can be found on the Paonia Film Festival Facebook Page.
Western US Tier selected films will premiere Nov. 6 and Local Tier selected films will premiere Nov. 7 at Paradise Theatre in Paonia as well as online. The Paradise has seating up to 150 to 175 persons.
"We're not sure what's going to be happening with COVID so, if we need to continue social distancing in November and we can't get very many people inside the theatre, we do have that virtual event and the number that can attend that is infinite," McGee said.
Knight said "one blessing" that came out of COVID was the ability for the Paradise Theatre to offer more virtual offerings and have a broader reach. The virtual option gives family of distant filmmakers an opportunity to participate.
Knight complemented the Paonia Film Festival team members including McGee, festival director; Joy Homor, marketing; Jonah Moshammer, festival consultant; and event assistant Samantha Hartman.
"They are really trying to make sure this is a very diverse film festival so we are reaching out to communities of color. And I just couldn't be prouder of the work that they've done with really trying to make this an inclusive film festival," Knight said.
Knight also expressed that event organizers were diligent in choosing this year's film festival judges.
"We took a lot of care with choosing the panel of judges for the filmmakers to make sure that we had a diverse group of people who are involved in film either as cinephiles or filmmakers or people involved in the film industry," she said.
"We wanted to make sure that anyone who submitted to festival felt safe. The judges are going to remain anonymous.There was a lot of input and a lot of care to make sure we had a good group of people who were going to judge fairly."
Audience members will also have the opportunity to vote on films.
Going forward, Knight said the team wants to keep the festival Western and opened to both professional and amateur filmmakers. McGee added that the festival's focus will continue to be on community while lifting up all filmmakers.
Local sponsors for the film festival and free workshops are Colorado Farm & Food Alliance, Liane Mattson and Neal Schwieterman, Brian Warner, The Cirque, Wisehart Springs Inn, law & equity ltd, Peggy and Frank Szvetecz, Elsewhere, Town of Paonia, NFVCC, Blue Sage, Grand Mesa Nordic Council and The Learning Council.