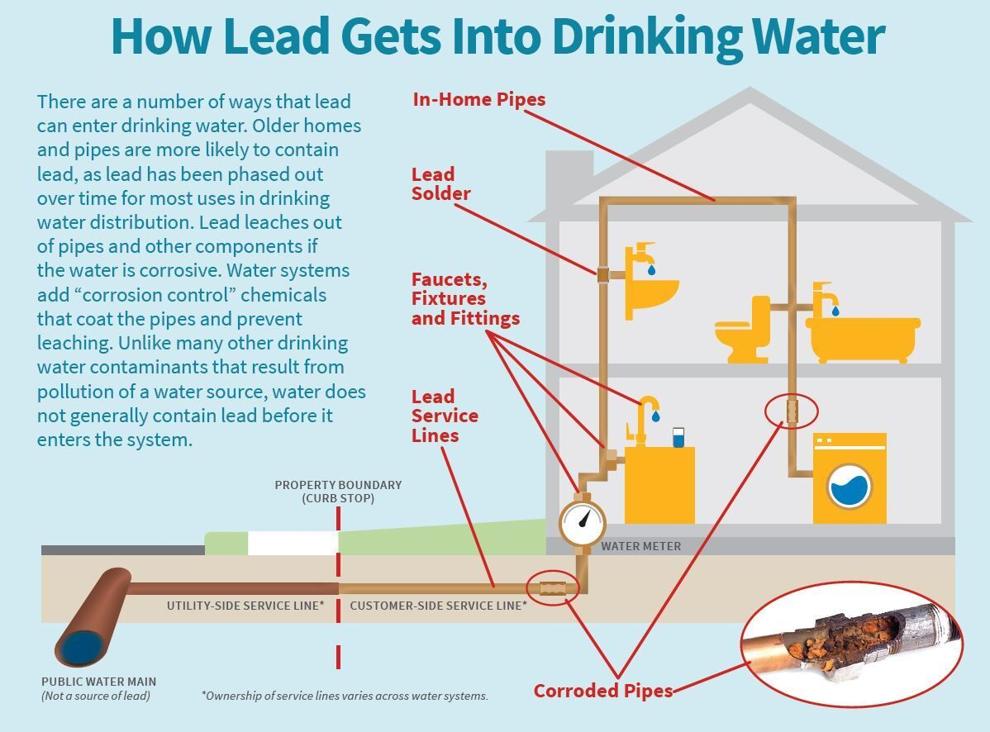 Recent notices from the town of Paonia concerning higher levels of lead in drinking water samples has led to a backflow of misinformation in the rural community.
An approved CDPHE cover letter with two separate notices was sent to town residents on Feb. 10. The information was met with a variety of responses on social media; however, the most concerning issue for residents was the notification about higher lead samples taken in December.
Town administrator Corinne Ferguson explained that the town is required by CDPHE to take a certain number of samples corresponding to the number of people or population the town water system serves.
"We serve just under 3,000 individual people on our entire distribution system. That requires a minimum of 20 samples at multiple sites approved by CDPHE. The sites are meant to represent every area or every neighborhood area on our system."
Ferguson said that if the town drops below 90% or records just two high lead tests they are required to notify the public.
The town pulled 20 samples in June using a hybrid method from both interior and exterior pulls. Ferguson noted that the June samples were taken at a time when water was free flowing. The tests showed no high lead levels. The samples taken in December were from more static sources resulting in six sites with high lead levels.
Ferguson noted that many people believe older homes are at a higher risk for lead seeping into their pipes causing contamination. She said the greater risk is to homes built in the 1980s when plumbers began using lead soldering.
The notice contained steps on how individuals can reduce lead exposure in their water. It also provided information about water treatment devices, alternative water sources and who to contact to have water tested for lead.
"The state requires that we confirm (our December results) in our next test which is by the end of June, but we're not waiting, we're doing them now. Regardless of what people may be saying online, we're not trying to instill fear, it's exactly the opposite," Ferguson said, admitting that the town has made mistakes and often not done things in a timely fashion.
"The big picture thing is making sure that what's in your water is safe and that people are safe and they're not being exposed to anything that's unsafe. There has not been a lapse that has caused a situation where there's been any danger to people," she said.
The bigger issue with CDPHE violations has been a lack of reporting or missing deadlines. Ferguson said Travis Loberg, public works director, has made significant progress on the "administrative side" of his position.
"We are working diligently to clear these old deficiencies and deal with the repercussions, which comes as some concern from the community. I know there is already a level of mistrust in the community and we're trying to deal with that by being open and transparent," she said.
The recent notices also addressed an older violation that has since been resolved with the state.
"There are several deficiencies that have just been lingering," Ferguson said regarding the notification on back-flow prevention device reporting.
She said the state has an unfunded mandate that the town is required to receive voluntary reports from businesses that are deemed to be a higher risk for cross contamination if there was a backflow event.
The state requires the town to identify which locations meet CDPHE criteria for needing a backflow device. Devices are required to be tested annually by the property owner or business using a certified tester. Results are then reported to the town which in turn is required to self-report a specified percentage of the results back to the state.
Ferguson said in 2018 and 2019 the town identified the locations via a survey asking if they had a backflow device. The town then notified them about the required testing. She said while the town received a number of the reports back, they failed to get the state's set percentage.
"We did not get enough of our businesses or locations to comply and provide us that information. Because we didn't hit that threshold, it's a violation that the town gets but is really instigated at the personal, property owner, business level."
In order to correct the situation, Ferguson said the town instituted an ordinance that allows the town to shut off service to non-compliant property owners or businesses. In addition, the town board issued a Request for Proposal (RFP) for certified testers to contract with Paonia. The town provided a list of locations with backflow devices, paid the contractor for the testing service and then passed the bill on to the responsible party.
"We've been compliant with our percentage of tests since May of 2020, but at the time that we failed to send out a notification. So, even though it's been years and we're compliant, we are still required to send out that notification to clear the violation with CDPHE."
Ferguson said while the state gives government entities plenty of time to notify the public on lesser violations, the delay can create unrest for the community.
She said that while the town board has had multiple conversations about the backflow device issue, residents are just now hearing about the problem.
"Because a notification didn't go out until now, it's causing people to think there is something wrong now and there isn't," Ferguson said, adding that the town is up to date with its state water reporting.