On July 20, the final two of four total applicants for retail and medical marijuana licenses were approved for conditional land use by the Cedaredge Planning and Zoning Commission. Those two applicants approved at this public hearing, which was a continuance of the first public hearing, were The Kind Castle and Tipsy Twigs.
To recap, PUR CannaBliss and High Q were both approved for conditional land use at the first public hearing on July 6. The town is permitted by its own code at this time to issue up to two recreational marijuana licenses and two medical marijuana licenses. All four applicants are vying for a recreational license while all except High Q are also going for a medical license. Therefore, when the time comes for the Cedaredge Board of Trustees to issue out the licenses, it will be an elimination round of sorts.
That conclusive trustee meeting was initially scheduled for July 22 but has been continued to Thursday, Aug. 6.
These two recent public hearings among the planning and zoning commission, however, were not elimination rounds, mainly ensuring that each applicant's plan was in compliance with the town's land use code. The approval of all four applicants in this stage of the process means that it's time for the applicants to move on to the board of trustees, the ultimate decision-makers in the process.
The Kind Castle: John Dyet, Kind Cedaredge, LLC; Kind Castle Colorado, LLC
John Dyet, applicant for The Kind Castle under Kind Cedaredge, LLC and Kind Castle Colorado, LLC, returned for his continuance from the last meeting, when planning and zoning commissioners agreed that they wanted to see more clarity in the plans. At that time, Dyet had showed up with two different scenarios planned out and the commission wished him to commit more heavily to one.
Dyet's business, if approved, would take over the building of Connie's Family Restaurant, a point that proved relatively controversial at the previous planning and zoning public hearing on the matter. Connie Freeman, owner and manager of Connie's, rents the building on a monthly basis from Perry Hotz. Hotz said at the previous public hearing that his decision to pursue what he saw as a more stable rental arrangement was purely a business decision, making a note that if Freeman lost her restaurant location, he'd assure that she was properly supported during a transitional period.
As it turned out, Dyet had had some issues revising his plan in the two weeks between the first public hearing and Thursday's continuance. As it involves a turnoff from State Highway 65, this included some misunderstandings on the Colorado Department of Transportation's (CDOT) requirements on a deceleration and turning lane.
Mainly, however, confusion arose when Dyet's chosen site plan was debatably too different from the one he originally presented, as it came off as being a new plan altogether, meaning this "new plan" would have come in long after the plan submittal deadline for applicants, thereby providing an unfair advantage over the other applicants.
Dyet said near the start of his follow-up presentation that he and the town had "a little bit of a misunderstanding" on the difference between renewing the plan and just revising it. He explained his justification for the significantly different plan as being a revision in the end. After previous planning commission requests to move a few things, other blocks on the site didn't fit and had to be moved around a bit as well.
Essentially, there were more details to why town staff, mainly Town Planner Davis Farrar, told Dyet prior to Thursday's public hearing that he had gone too far in the revisions, but they all pertained to a site plan that was determinedly too different from the original that was submitted.
At a point in his presentation, while Dyet's screen was shared over Zoom, displayed on each commissioner's laptop and the large audience screen in the room, he showed the renewed site plan, aiming to discuss where the miscommunication was and what his thought process was on the revision, but he was cut off immediately when Farrar advised the commission that he had instructed Dyet not to present those plans at all.
Dyet attempted once to continue explaining that he was only trying to clarify his thought process, but was cut off again by Chairman Richard Cartin, who used the gavel to interrupt and told Dyet, "We do not need to hear it. Go back to and stay with the your original application and the things that you have done there. If you want to persist in presenting us new material, then I thoroughly encourage you to go through the resubmission process."
Dyet returned to point to conclude with his minor revisions that were ultimately planned out. The planning and zoning commission approved the conditional land use with the understanding between them and Dyet that further discussion on the overall site plan would come with the board of trustees on Aug. 6.
That being said, while there were no in-person comments at the latest public hearing, complaints against the Kind Castle chain came up in emails, which were submitted into public record. Many were against the replacement of a long-standing, popular family restaurant for a marijuana dispensary when other options were available.
A few also brought up a bad track record with Kind Castle.
"In 2016, Kind Castle was denied in Glenwood Springs and sued them," Memory McDermott said, providing a link to the Post Independent article "Kind Castle takes pot shop appeal to court," which vouched for this fact, explaining that they had claimed bias in the matter when they were one of three marijuana applicants denied.
Statements of Kind Castle putting up a "big fight" at meetings when being denied is more on the subjective side, but these concerns were reiterated by Reneé Grossman, a competing pot shop applicant, who started by saying "It's with some trepidation that I email this to you because I don't like to comment on competing applications."
Nevertheless, Grossman warned the planning and zoning commission that they were denied a land use permit in Silt. As a business owner there, Grossman commented on their land use application "and they were really angry." Then, they were denied twice in Glenwood Springs, after which they "sued both towns."
This month, as they run for approval of both a recreational and medical marijuana license, Kind Castle also opened up a new location in Craig, making three total locations. The others are in Parachute and Nederland.
Tipsy Twigs: Joshua Patterson, Tipsy Twigs, LLC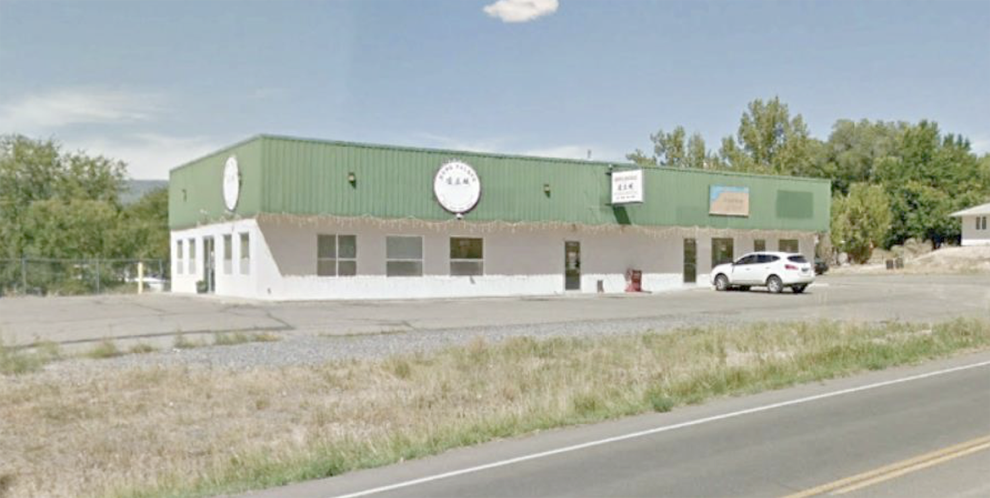 In this area, Joshua Patterson is known as the owner of RJ's Steakhouse, the refurbished High Tide car wash, Stay Wise Inn, E&C Patterson Investments (apartment complex), Asclepius Gardens, Grand Mesa Trailer Sales, Mountain Top Resort and Lodge and the newer Altitude Outdoor Adventures business at Alexander Lake on Grand Mesa.
As an applicant for a recreational and a medical marijuana license in Cedaredge, Patterson did not post public notice on the site in time to be considered at the first public hearing. He was therefore considered for the first time at the latest hearing.
Patterson did not attend the meeting in person. He was said to be on the Zoom call but made no comment.
Representing Patterson were his executive assistant, Jessica Davis and retail marijuana consultant Jade Raber, who has her own consulting firm for launching marijuana dispensaries, where she is the company director of operations.
Raber did most of the explaining when it came to Patterson's planned location for Tipsy Twigs. Firstly, it would be located in the former Hong Palace building on the south end of town, directly north from The Rock Shop and Grand Mesa Countertops, at 1260 S. Grand Mesa Drive.
The building is currently split into three units, and according to Raber, the plan is for Tipsy Twigs to utilize units B and C and to help the community by leasing Unit A (former Hong Palace restaurant) to another local business person.
Raber said Tipsy Twig's business model would be to provide cannabis along with wellness detail.
"The goal is to have a reputable cannabis dispensary that is here to serve the community and to preserve our natural greatness," Raber said.
The presentation by Raber was more brief than any of the other three applicants and didn't go into exquisite detail on floor plans, but it checked the proper boxes when it came to land use, so the planning and zoning commission approved it for conditional land use.
Conclusion
With all four applicants having been approved for conditional land use, PUR CannaBliss, The Kind Castle, High Q and Tipsy Twigs will all be considered for licenses at 5 p.m. Thursday, Aug. 6.