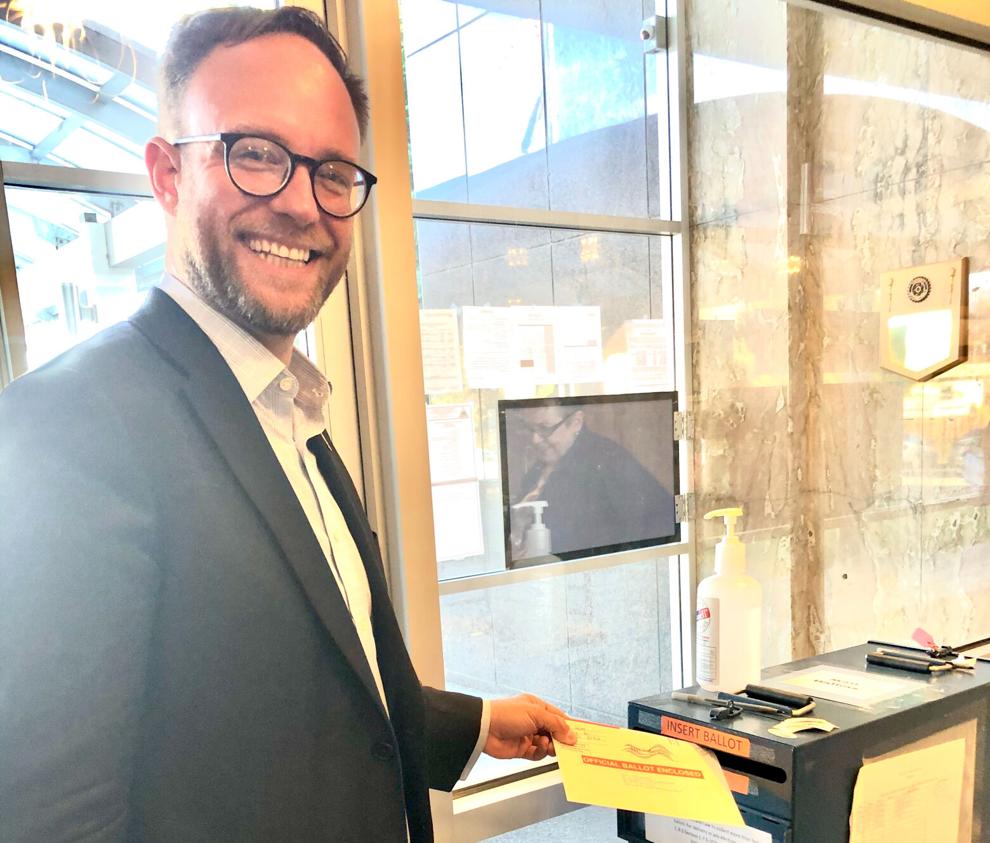 Rep. Matt Soper (R) will be heading back to the state's capital with a decisive re-election win in his hip pocket. Soper defeated Democratic challenger AliceMarie Slaven-Emond with 74.15% of the vote.
The landslide win constituted the largest margin of victory of all contested House Republican seats. Two years ago, Soper defeated his Democrat, turned unaffiliated, opponent with 66% of the vote.
It's estimated that in addition to capturing his party's confidence, Soper captured 78% of the unaffiliated vote.
"I am feeling good, it's pretty rewarding to know that you not only won but won with the strong confidence of the constituents, the people of House District 54," Soper said. " It says they really approve of the job that I am doing in the legislature."
Soper, at age 36, is the youngest representative re-elected to House District 54 since Rep. Tim Foster in 1990. Foster, the young Republican's friend, mentor and current president of Colorado Mesa University, was 33 at the time of his election.
Soper, first elected in 2018, is the first Delta resident to serve in the state house in over 50 years.
"Charles Conklin, who served as speaker, was last elected in 1964. Yeulin Willett, who served from 2014 to 2018, grew up in Delta and also graduated from Delta High School. During Rep. Willett's tenure, he resided in Grand Junction," Soper told the DCI.
As the incumbent Soper received 78.75% of the vote in Delta County and 73.42% in Mesa County. In both counties Soper out-performed fellow Republicans on the ticket by 10-12% points, including President Donald J. Trump, Sen. Cory Gardner, and newly-elected congresswoman, Lauren Boebert.
"Not only have I been the conservative that people asked me to be but there were people that supported me that didn't support some of the other Republicans. So it says that locally that they think that I am fighting for our Western Slope values and what we care about over here," Soper said, emphasizing that he plans to work across the aisle during the upcoming session.
"I do think there will be some challenges that weren't there over the last two years. I definitely saw at the end of the last year that the Democrats seemed much more willing to push their agenda ... I think that will be a challenge if it continues."
Despite the potential battles, Soper remains optimistic that the new house chair Daneya Esgar (D) from Pueblo will have a less liberal bend than the typical Denver-Boulder legislator.
In his second term, Soper said he plans to work on a number of bills including a measure called "The Paper Reduction Act of 2021" that will allow any aspect of state government to accept state documents electronically.
"A lot of this stems from the pandemic and the fact that it's difficult to either hand deliver official documents to Denver, as believe it or not, there are few requirements that still require hand delivery. The other thing is it's just a real challenge for travel as we continue with the pandemic to be able to submit official documents to state agencies."
Soper expects the bill to help void the potential of spreading the virus from contact and bypass the struggling postal service. The bonus is that the bill will also appeal to "the environmental left" who like the idea of reducing the usage of paper.
"It's also great for rural Colorado because it means we can still participate in all things governing without having the added expense of certified mail going back and forth to Denver," he said.
On the COVID-19 pandemic, Soper said he's worried that a statewide shutdown by Gov. Jared Polis could devastate the Colorado economy.
"It is of concern, but in my mind if we are all wearing face masks and being respectful of a certain social distancing then there's no reason to shutdown the economy at all ... we have made great strides in educating citizens," Soper said adding that there are continued efforts in the legislature to expand the grants and loans for suffering businesses.
He expects a bi-partisan effort when facing with the ongoing covid pandemic crises, "I do think it's a challenge that we can get through together. And one thing I do hope to accomplish is focusing on what we can agree on when it comes to the pandemic."
This election was a great win for Soper in a year that set election turn out numbers. In his home county upwards of 88% of voters in Delta County participated and 77% turned out in neighboring Mesa County. Delta County had the highest Republican voter turnout in all of Western Colorado, with 86.7% of all registered Republicans participating while 84.7% of Delta County Democrats cast ballots.